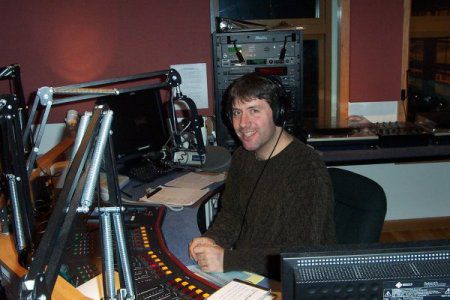 Larry Ravenswood was born in Chicago in the early 1960s, and practically from the point of birth , he had always had a happy ear for music, especially popular music. He remembers his mother playing Beatles records(and that means RECORDS ..VINYL!) when he was in the playpen. As the 60s became the 70s, Larry carried his enthusiasm for pop music into a whole new ecstacy: American Top 40. Not a week would go by where Larry wasn't glued to his favorite radio program listening to Casey Kasem's every word..it was "heavenly"!..
From 2004-2005 Larry produced and hosted a program called "The Strawberry Pop Show" on KFAI radio Minneapolis/St. Paul. The program attracted many listeners and(in Larry's humble opinion) became a late night cult classic. The format featured many sights and sounds that Larry heard in his youth..and then some!"
Currently, Larry produces mini music biography segments for radio entitled "Classic Artist Spotlight" which are available in various time segments; 90 second, 5-7 minutes, and a half hour (technically 26 minutes of program to allow 4 total minutes of announcements and advertising for the stations to equal 30 minutes total)..
Here is one of our half hour programs:

Daryl Hall & John Oates (Part 1)
Daryl Hall & John Oates (Part 2)
Here is a sample of one of our 90 second programs:
Electric Light Orchestra

Classic Artist Spotlight can be heard on the following stations:
WLJS
WJSU
Flaming Oldies
Hamilton Radio
Knightstown, IN
Lemoore, CA
Greenfield, IN
Jacksonville, AL
Jackson, MS
Selinsgrove, PA
Jasper, AL
Boston, MA
Chespeake, VA
Hew Haven, CT
Kingston, RI
Liverpool, UK
Halesowen, W. Midlands UK
Logan City Queensland, AU
Teaneck, NJ
Morris, MN
Machias ME
Kingsport, TN
New Paltz NY
Edison NJ
Snyder, TX
Stillwater, OK
Mount Vernon , WA
Paulding, OH
Fountain Hills, AZ
Raglin, New Zealand
Flagler Beach, FL
Loudon, TN
Brownsburg, IN
Glenwood, MN
Rowlett, TX
Sylacauga, AL
York, PA
Wilkes-Barre, PA
Raglan Waikato New Zealand
Shamokin, PA
Bismark/Mandan, ND
Monday – Friday 6:25AM, Saturdays at 8:25 AM & 6:25 PM, Sundays at 8:25 AM EST
Mon-Fri 3PM Pacific
Mon.12-2am EST Tues.8-10pm EST
The Merry Gangsters" (Thursday 10-noon) and "Schist That Rocks" (Thursday 8-10pm)
Mon.- Thurs. 4 PM (EST)
Mon.- Fri. 2:02 pm (EST) ..after NBC news
Sun-Sat 12 pm and 12 am EST
Mon-Fri.10am EST, Mon-Thurs. 2pm EST
Thursdays at 13:00 GMT
Sunday 6:24 AM EST
6AM to 10PM EST appr. 45 min. after the hour
Mon-Fri. 5:00am, 4:00pm, and 11:00pm
Sunday 8pm est
Wed 10am Central
Sundays at 7:00am
weekdays with Steven B 6-9am P.S.T.
every Sunday from 4 pm to 5 pm E.S.T.
Sunday 12pm
Thursday 6pm EST
Sat 10:30am CST
Saturdays 6-7pm cst
WYEA-1290AM and Yea-106.5FM Saturday @ 9pm (Central Time)
Sunday 7:30 AM Eastern Time
Saturday 12-1 Eastern Time
Raglan Community Radio Sun 3pm (New Zealand time), Sat 10pm EST
(online streaming only)